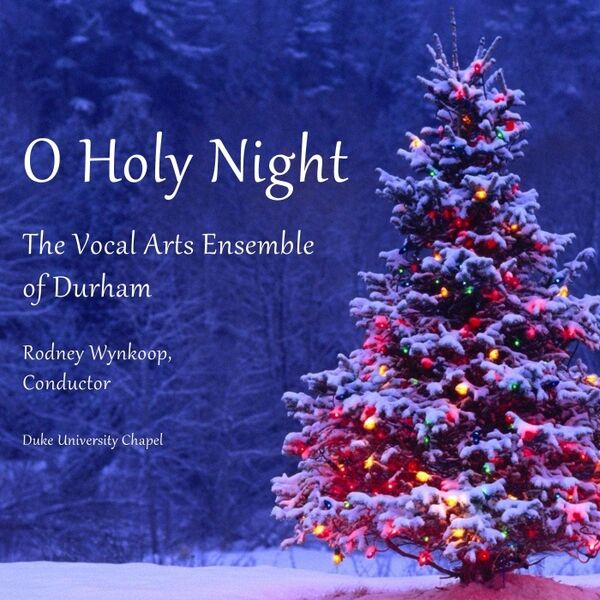 O Holy Night
Rodney Wynkoop, conductor
Alice Parker/Robert Shaw, arr. – O come, O come, Emmanuel
Richard Dering – Quem vidistis pastores?
David Willcocks, arr. – Quelle est cette odeur agreable?
Robert Young – There is no rose of such virtue
Herbert Howells – A spotless rose
Eugene Butler, arr. – Good people all, this Christmastime (Wexford Carol)
René Clausen – Love came down at Christmas
John Gardner – Tomorrow shall be my dancing day
Francis Poulenc – O magnum mysterium
Scheidt/David Willcocks arr. – A child is born in Bethlehem
Donald McCullough, arr. – What child is this?
Victoria Glaser, arr. – He is sleeping in a manger
Donald McCullough, arr. – Angels we have heard on high
Paul Sjolund, arr. – Away in a manger
Eleanor Daley – Balulalow
Edwin Fissinger, arr. – He is born on this holy night
Bob Chilcott, arr. – Lulajze, Jezuniu
Jackson Berkey – Still, still night
Rutland Boughton, arr. – The holly and the ivy
Stephen Caracciola, arr.     – Sans Day Carol (Now the holly bears a berry)
Ralph Vaughan Williams, arr. – Wassail Song
Stephen Paulus, arr. – Ding dong! Merrily on high
Michael Meyer, arr. – O Holy Night
Howard Helvey, arr. – Fum, fum, fum
Felix Bernard/Paul Ayres, arr. – Winter Wonderland
You can purchase a copy of O Holy Night at any VAE concert.
Good news!
VAE plans to release a new CD in the upcoming months—so stay tuned!
Visit the VAE's YouTube channel to see professionally recorded past live performances, including the 25th Anniversary Concert in Duke Chapel and the 2021 Holiday Concert at First Presbyterian Church.